If you want to visit Phong Dien floating market in the Mekong Delta in Vietnam, read on.
---
Phong Dien is one of several floating markets in the Mekong Delta. It's easily accessible from Can Tho, but just far enough and small enough that it doesn't appear on regular floating market tours. In fact, the only floating market that is on regularly scheduled tourist tours from Can Tho is Cai Rang.
Instead, you have to arrange boat transport yourself. Thankfully, it's not difficult but you do have to practice your negotiation skills.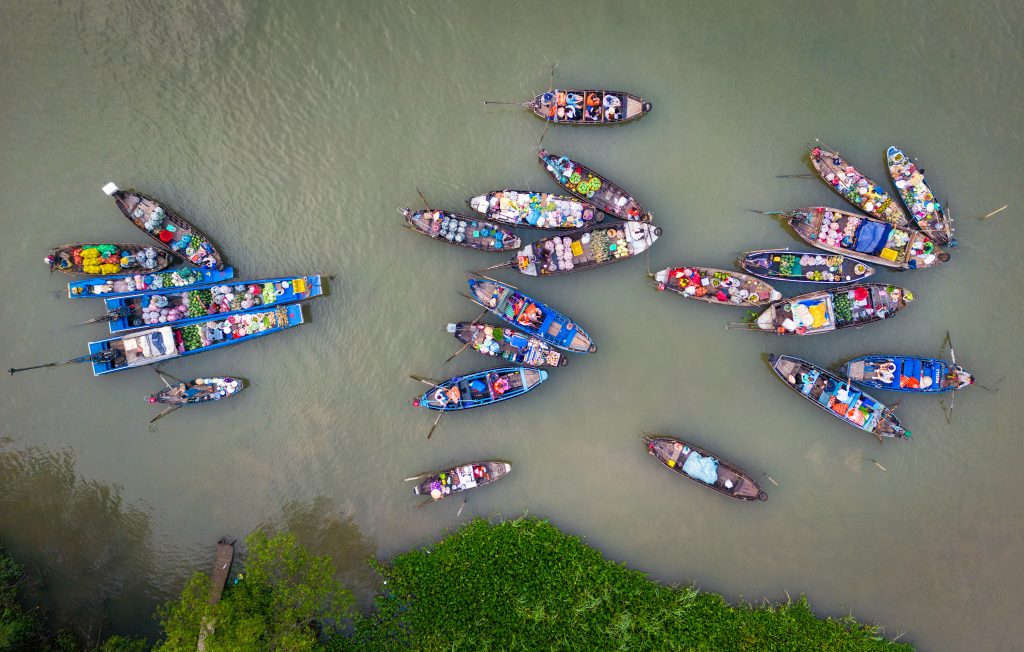 Because a tour like this starts very early in the morning, you have to arrange it at least the day before. Once you arrive in Can Tho, make your way to the waterfront to the left of the Can Tho market. This is where the pier is and where tour and boat operators are. You can either approach one of the couple of kiosks already set up for tours (this is the safest option) or you can approach other people selling boat tours. Just make sure that they are legitimate.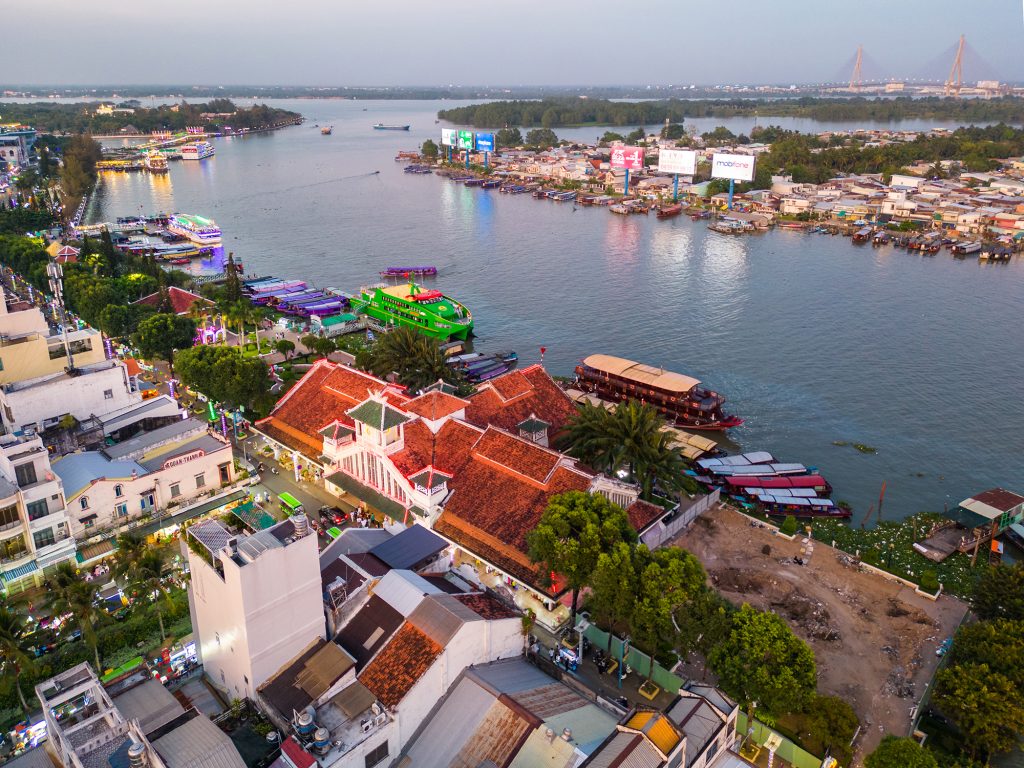 Tell them you want to go to Phong Dien the next day. They will ask how many people and then quote you a number. This is a quote for entire boat, not per person. The boats are small and fit 4 people. I was alone and the initial quote was something like 900,000 Vietnamese Dong, which was about $39 USD at the time. I declined and walked away, knowing that the lady with whom I negotiated would follow me. She did. After a bit of back and forth we settled on 650,000 Vietnamese Dong or roughly $28 USD. This was a sum I was comfortable paying and thought was fair.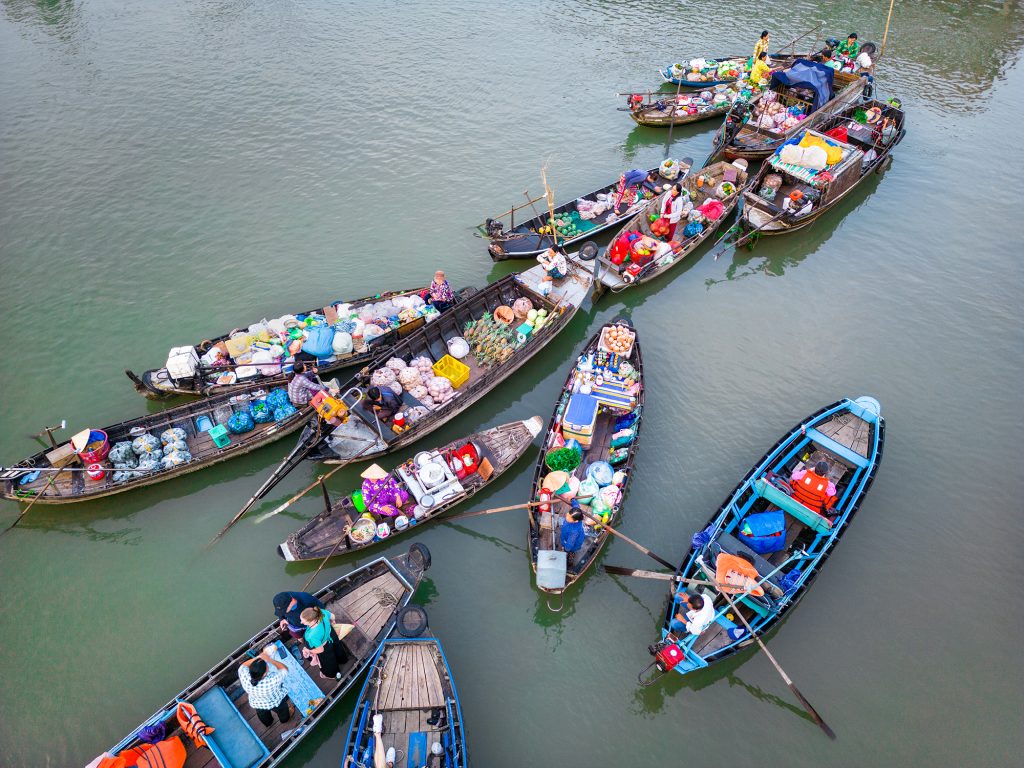 The next step is to set up a meeting time, and this will be EARLY! Phong Dien gets going in the dark hours of the morning, and by 8:30am or so it's done. Plus it takes one and a half hours, give or take, in a motor sampan to get from Can Tho to the market. You must to start early to make the best of it. I set the departure time for 4am and it was perfect. It was early February and by the time I got to Phong Dien and had breakfast that I bought from a market boat, the light was perfect for photos.
Speaking of breakfast, you can buy breakfast noodle soups and coffee, fruit, etc. from the boats. At the time of writing, a bowl of noodle soup with meat costs about 40,000 Vietnamese Dong, or about $1.72 USD. You can eat it on your boat and then the seller will circle back to you to pick up the bowl and spoon. It's actually quite a challenge eating hot soup on a moving boat! Given the early departure from Can Tho, I can't imagine you'd be able to find much in the town so either stock up the night before or be adventurous and eat at the market.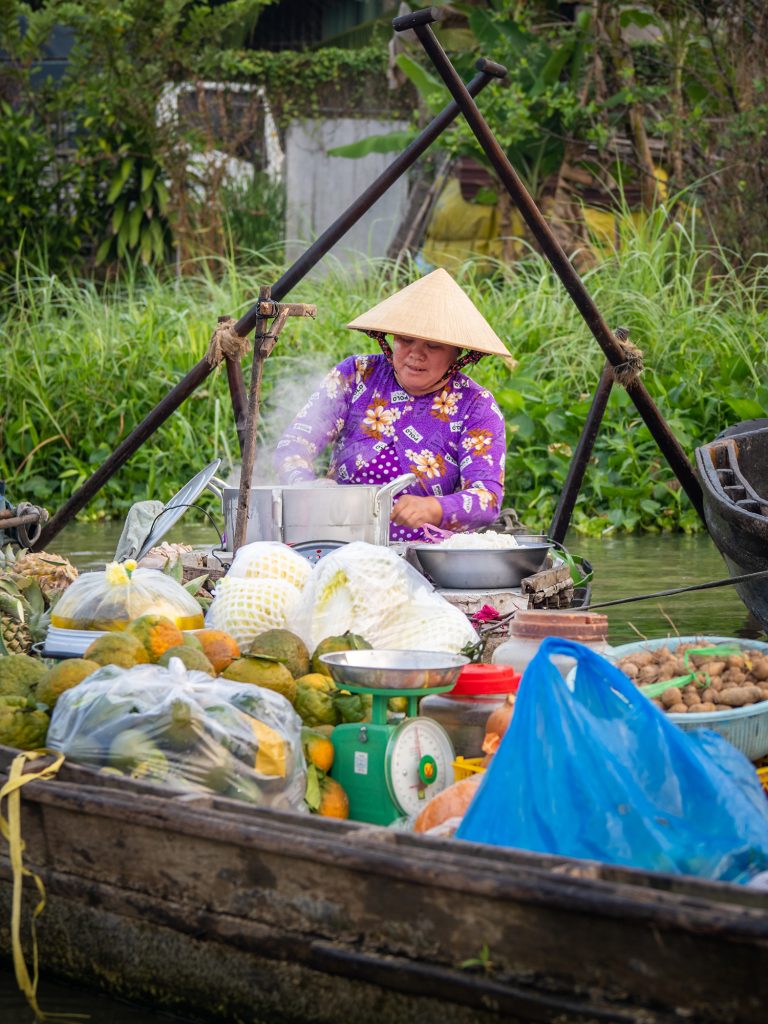 ---
That's how to visit Phong Dien, but why should you visit Phong Dien floating market?
To be honest, this market alone is not worth the trip to Can Tho unless you, like me, are chasing floating markets. But many people go to Can Tho, the defacto capital of the Mekong Delta, for a variety of reasons. If you are already planning on going to Can Tho, then a trip to Phong Dien is absolutely worth the time and early wake up.
Unlike the nearby Cai Rang, Phong Dien is small in a good way. The boats are small, the produce on display, in the open where you can see it. Here you can interact with the vendors more easily, which lends the experience much more fulfilling.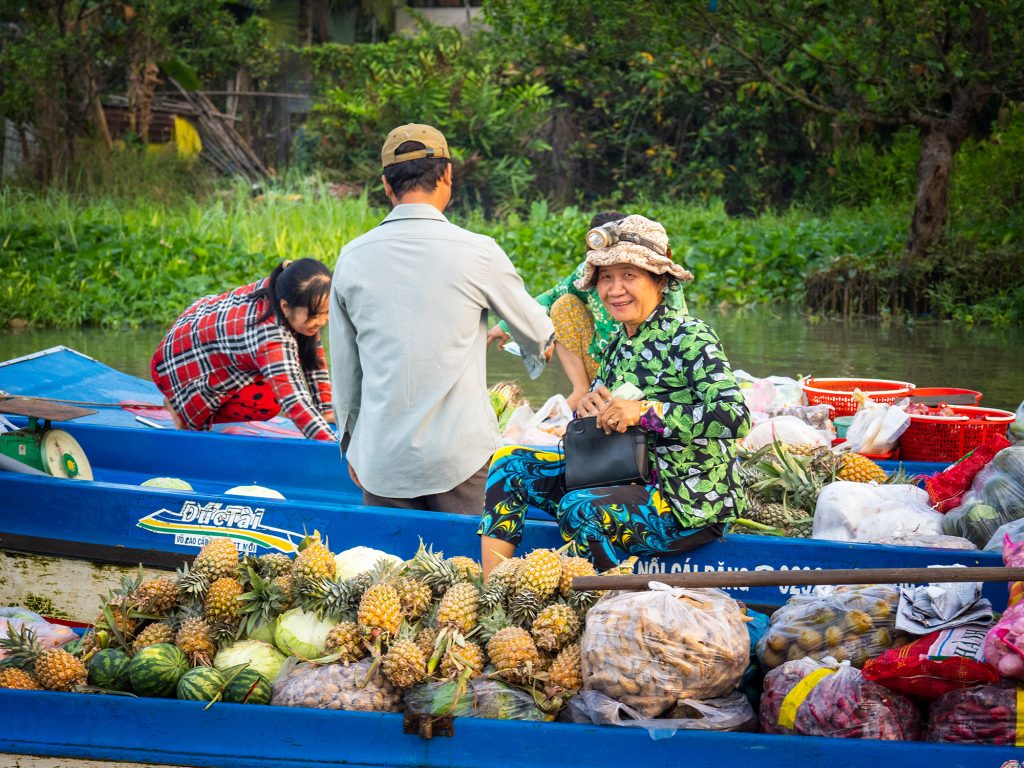 When I say Phong Dien is small, I mean it, so adjust your expectations. On the morning I went there were about 19 or 20 vendor boats and they were mostly small sampans. But its small size is precisely what makes it so charming. It's relaxed and laid back, even for the people who are there to conduct business. They gossip, laugh, and just seem to while away the time chit chatting in between sales and trade.
The selling point, aside from the charm and vibe, is the fact that it is not very touristy. When I was there, there were about 5 small tour boats, most with one to four people each. As a result, the experience feels more genuine than in the larger markets. It doesn't feel like the market exists solely to cater to tourists, which are few and far between. I loved that, especially after the intensity of Ho Chi Minh City.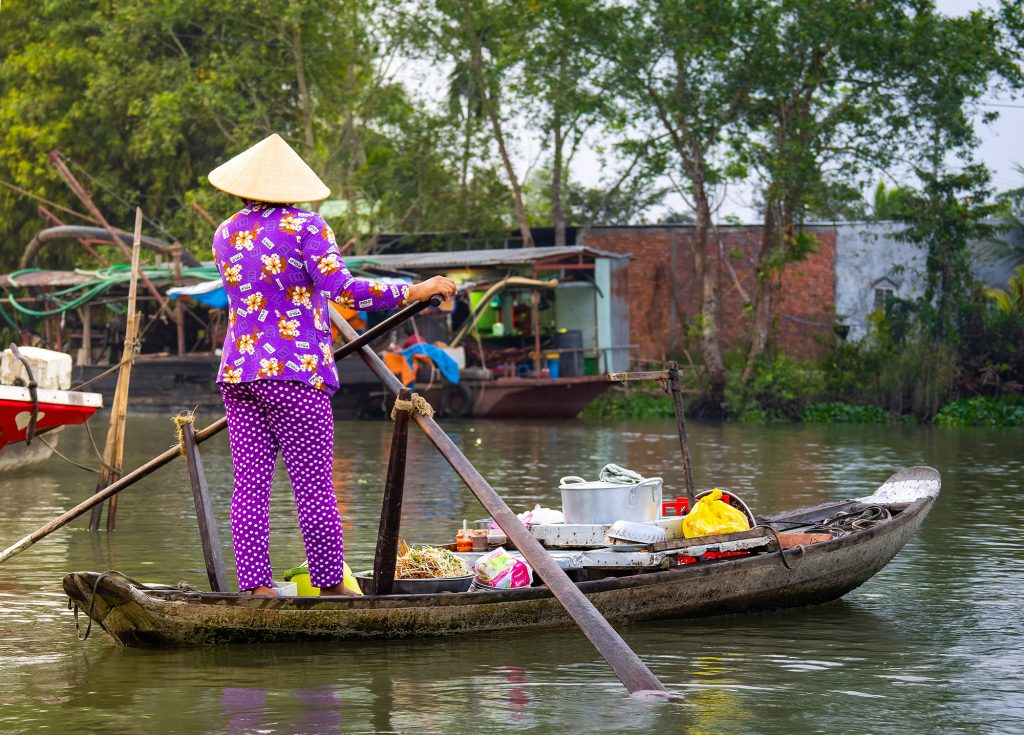 Oddly enough, despite the almost deafening sound the sampan's motor, the boat ride to the market, in the dark, with the Can Tho river all to myself, felt peaceful. It was early so the intense heat of the day hadn't set in. And for the first time in days I couldn't stretch my arm and touch someone. If nothing else, a sampan ride to Phong Dien will clear your mind.
If you are looking for a great floating market experience in the Mekong Delta, then Phong Dien floating market is the right market for you.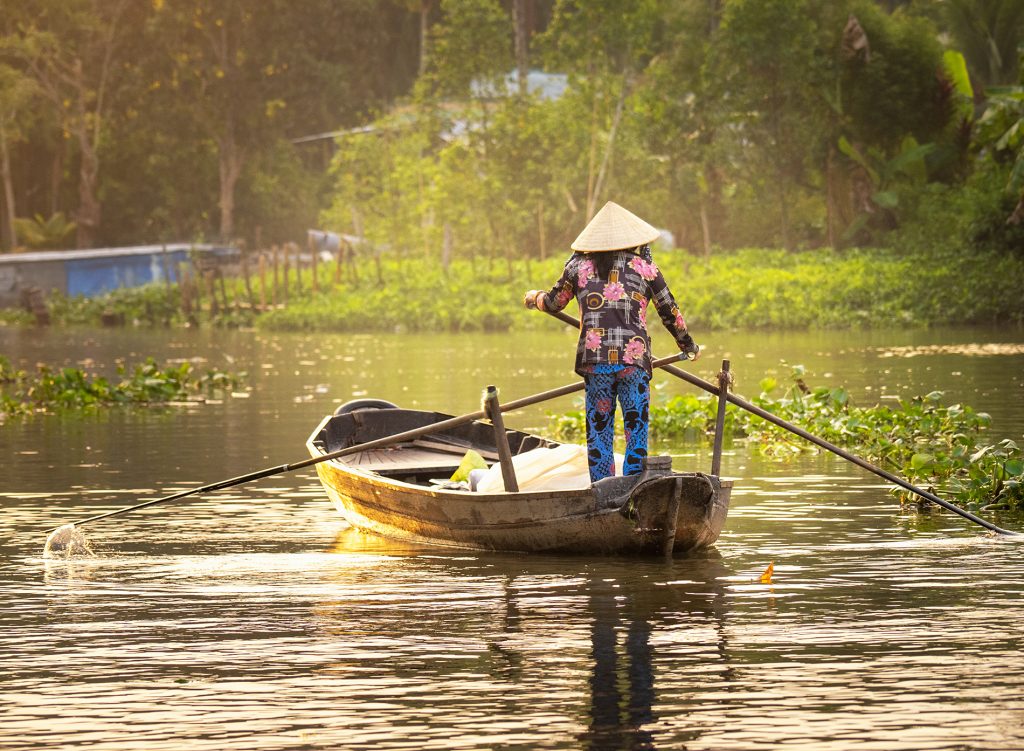 ---
A few things to keep in mind:
Your boat operator will likely not speak any English. This really wasn't a problem for me but if want an English-speaking guide in addition to the boat driver, you can hire one in Can Tho too.
A tour to visit Phong Dien floating market will be about 5 hours total. This gives you roughly two hours at the market itself. This may be too much if you're not an obsessive photographer waiting for the perfect shot. In that case, you can probably negotiate a slightly cheaper price for 4 hours.
Don't book online through sites like www.viator.com. In my experience, you always end up paying much more than when you book in person on site and have less control over the details.
Parts of the river are pretty polluted with trash, plastics, etc. Do not add to this problem. Don't dispose of anything by throwing it in the water.
It can be breezy on the boat, especially very early before the sun has risen. If you're prone to being chilly, bring a light shawl or something like that.
Most of the sampans have a roof even if they start out with it down. Nevertheless, if it starts raining while you're out, you're probably going to get a bit wet.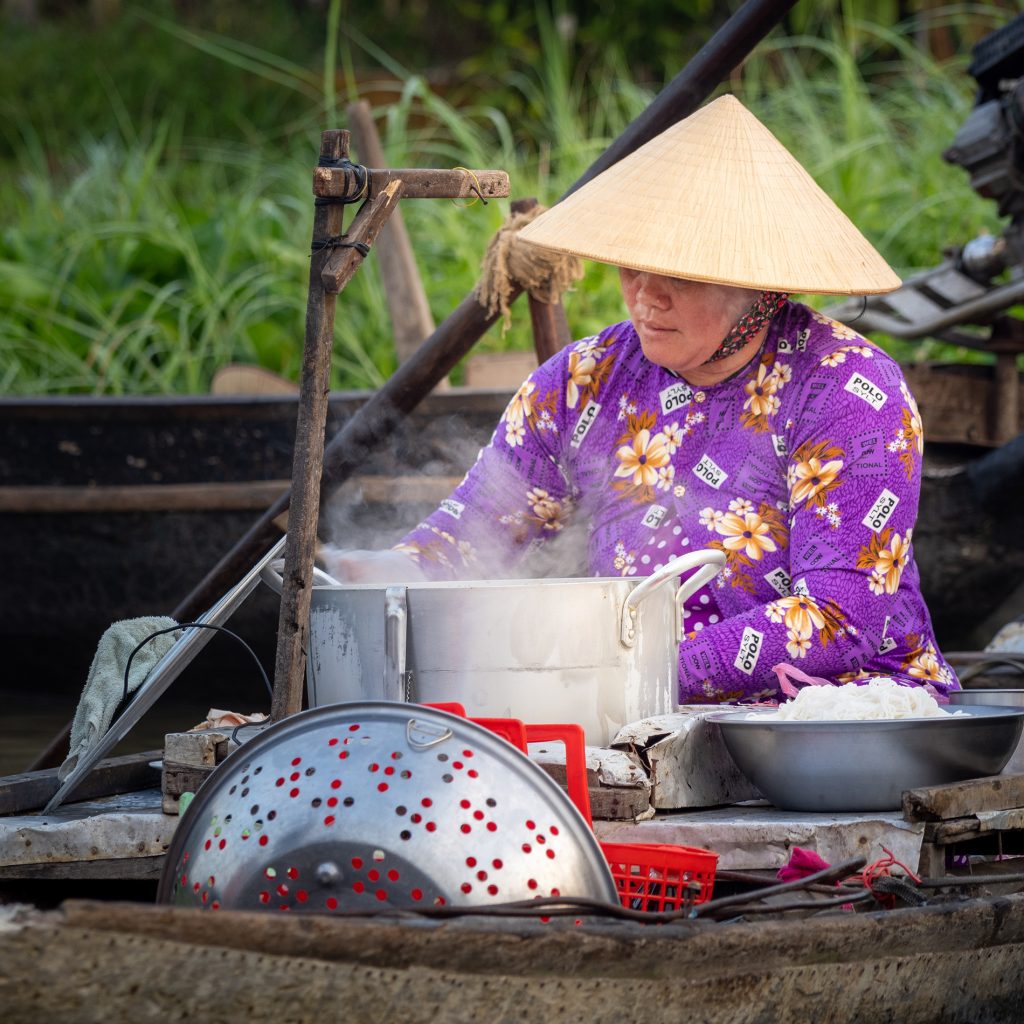 ---